Sunday, March 18th, 2007
The Education Law Center, Good Schools Pennsylvania (GSPA), and the Education Policy and Leadership Center (EPLC) are leading The Pennsylvania Education Funding Reform Campaign. This campaign will advocate for a state finance system that provides all children with the resources needed for an excellent public education. The results could lead to significant legislative changes in the inequitable funding formula the state uses now. First Person is pleased to support this effort by participating in the Campaign's Share Your Stories effort.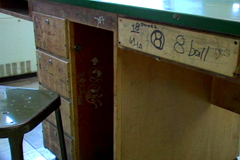 My school did not get enough funding, and as a result, there were broken desks. There were not enough textbooks, and the books that we used were torn. There was graffiti on the desks. The school did just not look its best. In computer class, there were not enough computers. You'd have to wait on one and end up missing out on time you could have been doing work.
This affected my ability to learn because when there weren't enough books and I had to partner with someone I did not like, I wouldn't do the work. Or when there weren't enough science supplies to go around and I couldn't participate, I would leave. During class, if I had to sit in a broken, uncomfortable chair, I would be aggravated and not really focused on the work.
If I had more money for my school I would buy enough books for all students. I would get more learning supplies and fix up the broken chairs, desk doors, etc. More supplies for students would mean less conflict and maybe not so much talking. Maybe the school would look better, and maybe students would feel more comfortable in their environment.