Thursday, September 6th, 2007
It's been a while since I posted, nothing new really going on in my life.
One thing is for sure, life is definitely not panning out how I had planned for it to.
Not in school right now, I'm actually waiting for January to come so that I can apply to become a union worker for the Local 542. It's actually something I've been wanting to do for a while but wanted to do it as not a first or last resort. Its not a bad gig though, It actually deals with heavy equipment operations and engineering, and the pays great, they send you to college and everything. I figure it'd be a way to get school out and over with and still be able to build a strong financial foundation for my future when I get ready to start out on my own and maybe start a family. That last semester at school I fumble pretty bad, my GPA dropped and everything. Sad to say this is not a new experience for me, there has been instances in the past where I've had the same thing happen to me, life gets rough and times get hard and I focus on other things more than school and it does ultimately affect my academic performance. But I'll bounce back just like I've done in the past, I just get frustrated because it gets to be a bit repetitive at times. Like taking two steps forward and three steps back.
In the mean time I'm still working for Transit Aide I've been there for about 9 months already, I hate it lol. I can't remember the last time I've had a day other than a Sunday off.(Everyone knows that there's nothing to do on a Sunday) This job is too demanding and soooooo not rewarding. And it's like I could just say screw it and leave but then again I can't, because although I should be making more money than I am currently (I think so anyway), the money that I do make allows me to provide for my family. Its like I can't say no when it comes to helping out my family with anything, selflessness sucks ass. Sometimes it feels like I work for nothing, I'll spend over forty hours a week working and at the end of that week when bills and family is taken care of I have a few dollars that I have to stretch out to get me through the week. I can't remember the last time I really spoiled myself and just blew my money on me. Out of everyone in the family I have the least amount of clothes, can't remember the last time I went out and just bought me a whole outfit (Fitted hat, sneakers, nice shirt or fresh white T, or new jeans), and went out to a club or something and enjoyed myself, sometimes I feel unhappily married with no wife and no kids. I know it sounds crazy but thats how I feel. I just can't bare to see anyone I love in need of anything, and not do anything about it,I'd rather be without before I let one of them be without.
Summer's over now, thank god, my summer sucked anyways. All I did was work, which is all I ever do anyways, or avoided drama trying to make it to the next day. This summer was depressing, now that Philly seems to be the murder capital on the east coast. Makes you not wanna go out anymore, I know what a bullet sounds like when it whizzes by your ear, it sounds like a bumble bee if your close enough, so in a way my boredom is a blessing in a sense that I'm not out with the risk of not coming back home. I thought I was a goner this summer myself, to make a long story short I had a disagreement with someone on someone else's behalf and got a big ass shot gun pulled on me, which made me madder by the way because I know I would've kicked his ass if the gun never came into play.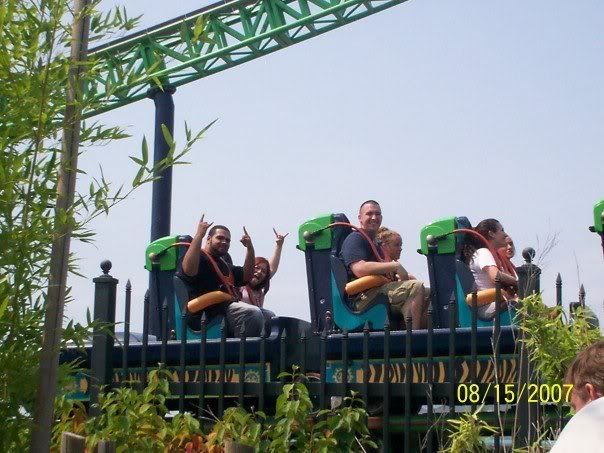 This right here was the funnest time I had all summer and it didn't come till the end of the summer, the family planned a trip to six flags and it was my mom, bebop,mimi, neddy, and my lil cousin daisy, dewey, and two of bebop's friends who originally planned to go, and bebop called and convinced me to call out a day from work to "enjoy life" so I did (even though I spent a shit load of money I was saving, go figure lol)