Community Voices
Community Voices Blog Page
First Person recently invited thirty-two urban education students from Swarthmore College to watch the introductory First Person DVD and respond in writing as an assignment for their first day of class. Over the next several weeks, excerpts from their responses will be posted as part of our new Community Voices Blog Page.
College Ambassadors Project
Visit our new College Ambassadors page!
Written together with our first College Ambassadors, the attached report grades North Philadelphia's college support system.
Developed by Interactive Data Solutions, the prototype for our new interactive web application is now online. As we grow our outreach effort, this site will serve as powerful tool for youth and policymakers alike to advocate for a more comprehensive college support network.
And produced by the WHYY Learning Lab, the short video below profiles the first group of First Person College Ambassadors, who just completed our Summer 2007 Training Pilot.

Quicktime
Wister Elementary School
Students at John Wister Elementary School have created their own video in response to First Person! Please take a minute to view their awesome work and to read the letter below from their teacher:

Quicktime
"The six students in First Person may not know it, but they are great inspirations to people because we get to see where they are coming from…it helps to know that no matter who you are, you can do anything you put your mind to."

–Angel, 6th grade
John Wister Elementary School is a small K-6 school located in the Germantown section of Philadelphia. As the computer science teacher at Wister, I have had the opportunity to hold some after-school clubs for students interested in creating original documentaries. This year, a group of students worked for several months planning and creating a 5-minute documentary about the history of their Germantown neighborhood. The success of this student-made digital movie led to me to search for local filmmakers who were creating larger video projects. When I found the FIRST PERSON website, I was hooked.
Brittany, Victoria, and Kashay–three young filmmakers in training at Wister Elementary!
My students were truly engaged by the story of First Person – and they quickly identified with the challenges facing the students featured in the film. I was overwhelmed by the number of students who wanted to participate in a project with First Person.
"I like First Person because it can really motivate kids my age to want to make something in the world!"

–Kashay, 5th Grade
We began by writing some reactions to the First Person trailer, and in the end we decided to make our own short movie for the First Person website.
We hope you enjoy what we made. Please feel free to contact me if you'd like to support after-school clubs for digital movie making.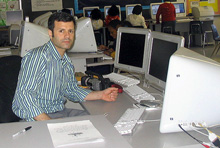 Pete Endriss
John Wister Elementary School
pendriss [at] phila.k12.pa.us